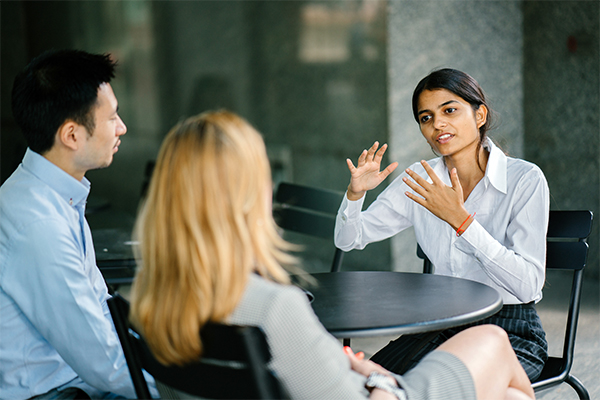 Your knowledge, training and intelligence equip you to succeed in a variety of scientific careers. Scripps Research provides a number of opportunities for exploring your career options. You can attend seminars and networking events, tour neighboring institutes and biotech companies, and participate in internships across the nation. Additionally, you can deepen your knowledge by reading books and articles and talking with professionals in your prospective field. We can help you make these connections. To schedule an appointment, email us.
Research Your Career Options
Building connections by regularly communicating with people outside your social or business circle is one of the best ways to learn about jobs that might be perfect for you. At Scripps Research, you'll have plenty of opportunities to do so. The La Jolla campus is located on the Torrey Pines Mesa, a bioscience cluster that is home to more than a dozen research institutions and over 500 life science companies. These organizations sponsor many networking events. In Jupiter, the institute often collaborates with the neighboring Max Planck Florida Institute for Neuroscience and also Florida Atlantic University to stage networking events.
Additionally, the institute schedules its own alumni events, where you'll have the opportunity to speak with scientists who have achieved success following their training here.
When attending a networking event, you should be prepared to succinctly state your interests and qualifications in an "elevator speech." This article, written by a scientist for scientists, provides some excellent suggestions on composing an elevator speech.
You should also be prepared to hand out a professional business card containing all of your current contact information, including telephone number and email address.
Finally, if you spend time talking with someone who provides advice or contacts, always send a short "thank you," whether by email, text or handwritten note. Such a message not only demonstrates that you are a considerate person, it allows you the opportunity to strengthen your new connection.
One of the best ways to learn about a specific career is to talk with someone currently working in that field. We suggest that you seek out and speak with people who can provide you real-world answers to your questions. 
Before you attempt to schedule an informational interview, decide specifically what you want to know. You may want to develop an email script that includes:
Who you are;
The personal referral or the mutual interest shared;
Your motivations for the particular career;
That you are not looking for a job;
Why you feel the person is a valuable resource to you; and
A brief, clearly defined time span and date for your meeting request.
Then, when meeting face-to-face, be prepared with specific questions. Some examples include:
What steps did you take that led you to your current position?
What are the major responsibilities of your position?
What skills and education are needed to enter your field?
What do you do as a...?
How do you spend a typical day/week?
Do you spend most of your time at your desk? Moving around the company? Outside?
What kinds of decisions do you make?
While the goal of this informational interview is for the interviewee to speak about himself or herself, be prepared to talk about yourself as well. Prepare an elevator style synopsis of your research, and be able to clearly state and clarify your skills, interests and values.
Gain Real-World Experience