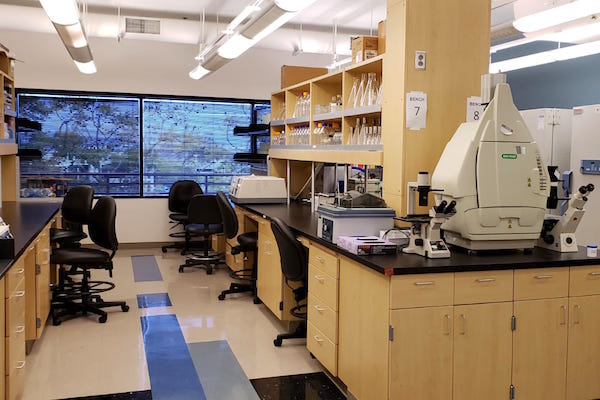 Welcome to the Community Teaching Lab at Scripps Research, an open laboratory space where in-house training courses and STEM outreach programs come to life amid the world-class biomedical research environment of Scripps Research.
NEW! If you are looking for our summer science camps for middle and high school students, visit our Junior Scientist Training Program page by CLICKING HERE.
Local elementary, middle and high school teachers are invited to explore the information below to learn how this unique facilty may enhance and augment their classroom curriculum. We also offer tours of the Scripps research campus and other STEM enrichment activities off site.
Join us in building a community of scientists from the grassroots up.
SUPPORT THE CTL
Support our outreach programs and workshops by donating gently-used working laboratory equipment and basic lab supplies. Visit the Contact Us link below to reach out or for more information.
We are grateful to our lead sponsor, VWR for their support! 
The Community Teaching lab is fully equipped with necessary laboratory supplies and equipment including:

PCR machines
Hot plates
Shakers & Rotators
Scales
Gel Electrophoresis (Gel Rigs, Gels and power supply)
Centrifuge
Lab Glassware
Pipettes and tips
Desk space
Tissue Culture Room
4ᵒC room
We also offer tours of the Scripps Research campus and other STEM enrichment activities off site.
Teacher Resources at the Community Teaching Lab
Follow your Gut a Citizen Science initiative by UCSD: https://galileo-ucsd.org/galileo/entrance The Community Teaching Lab has a community space on Galileo. An initiative by UCSD to involve the public in Scientific Research. Join us and help the CTL design and run experiments together.
Working with Worms to teach genetics and neuroscience: https://www.scripps.edu/grill/resources.html This initiative by the Grill Lab at Scripps Research gives you a series of protocols to run your own research.
Need a Mentor or Role Model for your class? Set up a Skype Visit by one of our Faculty or Grad Students by contacting the Community Teaching Lab.
 
Tools
bioGPS.org This gene annotation portal was developed by the Su Lab. BioGPS emphasizes user customizability and community extensibility.
GeneWiki is a continuously updated collaboratively written and community reviewed review article for every gene in the human genome. It has >4million views and thousands of edits per month.
Mark2Cure.org This is a crowd-sourced literature annotation system that teaches citizens to identify concepts and concept relationships in biomedical text.
Scripps Genome ADVISER (SG-ADVISER) developed for the interpretation of genetic variant data.
MyGene.info & MyVariant.info is a free gene web service to support your bioinformatics needs.
 
For more resources or tailored coursework use the Contact Us tab above to contact the Community Teaching Lab.
Frequently Asked Questions
Is the community teaching lab available to rent out for use?
Yes! Please contact us to learn how you can use our space. 
Who can participate in the teaching lab activities?
Our community outreach programs are listed on the CTL Programs page. Each workshop has an age group suggestion. Contact us if you have more questions.

Click on the Contact Us tab above and send us an email with details of who/why/when and we can help set up a tour.

What is the Community Teaching Lab's safety policy?
Our Community Teaching Lab is a BSL-1 facility and we follow all safety protocols enforced in such an environment. Additionally, we aim to build a safety culture where individuals can practice science while being considerate of the community and the environment. 
How can I keep up-to-date with events?
Click on the Contact Us tab above, send us an email and request to be added to our mailing list.
How do I register for a workshop?
Follow instructions on the Programs page or send us an email.
I have an idea for a great workshop/event.
Great! Please let us know. Click on the Contact Us tab above and send us an email using the contact form.

Join a workshop and attend a meet-up. Want more? Ask us what else we can do.

What are the costs associated with running an event or for participating in an event
Click on the Contact Us tab above and send us an email using the contact form.

What resources do you have to help me with my science project?
Click on the Resources tab above to lear more about the reseources we have for you here at the CTL. 

Contact Us
---