Community Teaching Lab Programs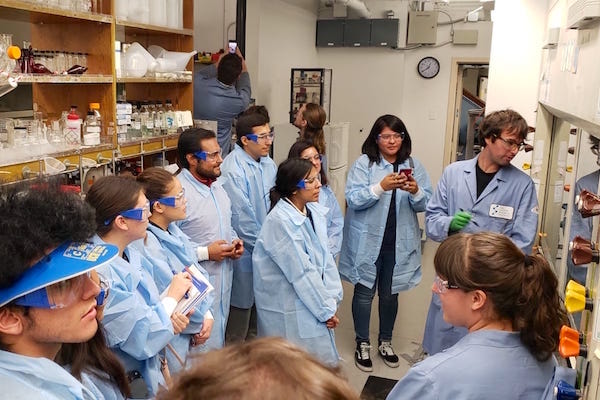 The Community Teaching Lab on Scripps Research's California campus is an open laboratory space where in-house training courses and STEM outreach programs take place. 
NEW! If you are looking for our summer science camps for middle and high school students, visit our Junior Scientist Training Program page by CLICKING HERE.
Our programs are open to visitors of all ages but we place special emphasis on designing interactive content that is relevant and useful to local K-12 science teachers. Local elementary, middle and high school teachers are invited to explore the information below to learn how our unique facility may enhance and augment their classroom curriculum. 
Discover the many exciting workshops and programs we currently offer:
Science Workshops
Check out your Cheeks: Isolate DNA and Protein from your own cheek cells.
This is a whole- or half-day workshop for students to learn about DNA and PCR. Students will learn how to extract DNA, amplify a particular gene using PCR, and run their samples on a gel to visualize their data. Optionally they can repeat this process looking at protein.
Photosynthesis & Plant Biodiversity: Watch Photosynthesis take place and observe how plants differ.
Photosynthesis is an important part of life. In this workshop students can visualize plants doing what they do best - converting carbon dioxide to oxygen. Students will also learn about the diversity of the plant kingdom and can look at the different types of chlorophyll.
Genetics & Traits: Learn about the diversity of Life and how genetics plays a part in it all
Students will get to experience how genetics plays a part in diversity through a series of practical activities. They will also learn what makes them unique.
Contact us for more workshops tailored to your needs.
 
Science Mini-courses
Introduction to Cell Culture and Aseptic Techniques 
Learn how to culture cells and use a BSL hood. This is an important skill in research so get a head start in this mini course designed to help you understand how to work with cells.
The latest technology in genome editing is a great skill to have in biomedical research. Join this mini course to learn what CRISPR is and how this technique is used in research.
Want to know how to work with protein? Learn how to isolate and quantify protein and successfully run a western blot. This skill is not only important to have but is also fun!
Want to talk Cheese, Beer and Cider? Join this course to learn about the science of food!
STEM at your School
The Community Teaching Lab wants to bring science to your school! Ask us about how we can support your science class with a demo or workshop. We can even bring scientist role models to talk about science and their research.
Home Schools Science Day
Give your students a real science experience by visiting our community lab. We can put together a workshop to suit your lesson plan and make sure the students walk away with a love for science.
Journal Club
Want to stay in touch with the latest news in science? Join our journal club to learn how to find reliable sources, how to read scientific articles and more. This group is open to anyone with or without a science background.
Meet a Scientist
Need a mentor, a role model or just have a lot of questions to ask? Contact us to get your own scientist on call. Our research community is alive with creative minds who want to give back to the community. .