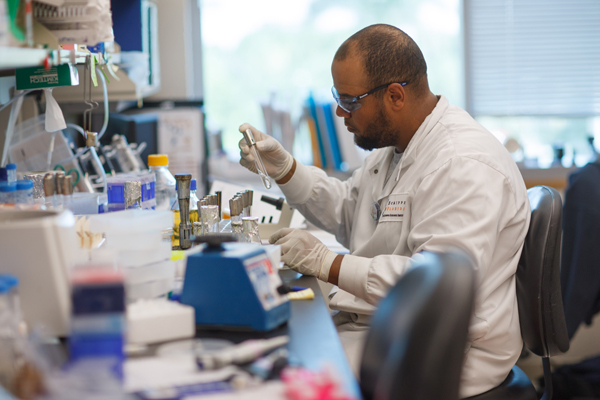 Online applications for the doctoral program may be submitted via the "Apply Online" button. (available August 1 - December 1) In the process of completing an online application, all applicants are asked to submit a Statement of Purpose and Research Statement. These narratives are important, as applications are considered overwhelmingly based on a student's scientific interests, previous research experience, and a statement of purpose that demonstrates a developed sense of professional direction, persistence and motivation. For important tips and guidance as to the recommended content and focus of these statements, please visit the Written Narratives page.
Once prospective students submit an online application, the following supplemental materials must be submitted by the annual December 1 deadline in order for an application to be considered complete:
Transcripts: Transcripts may be submitted online with application materials. For the purpose of applying, official transcripts are not required and an electronic copy of a transcript or a university generated web printout is preferred (must be official records from the university or college attended). Hand-typed listings of courses prepared by the applicant will not be considered. Official transcripts documenting the degree awarded at each college and/or university will be required prior to enrollment.
TOEFL/IELTS: If applicable, international students must submit evidence of proficiency in English. Request Test of English as a Foreign Language (TOEFL) scores from ETS or International English Language Testing System (IELTS) scores from IELTS. The institution code for the TOEFL is 4651. No department code is necessary.
Recommendation Letters: A minimum of three letters of recommendation from faculty or employers who can assess your research intensity and drive, your perseverance and independence in the lab, your creative contributions to the design and progress on a research project, and how quickly you assimilate to new ideas and embrace alternate approaches to a problem. Of particular interest to Scripps Research's doctoral program are letters from research advisors or research supervisors with direct knowledge of your previous laboratory research experience. Each recommender's contact information should be submitted online with your application.
 
As of 2020, Scripps Research has decided to make the submission of GRE scores for both the general and subject-specific exams optional. The admissions committee will make no assumptions if a GRE score is omitted from an application. However, we will still consider GRE scores if they are submitted, and such scores may be helpful in the context of the applicant's entire portfolio.