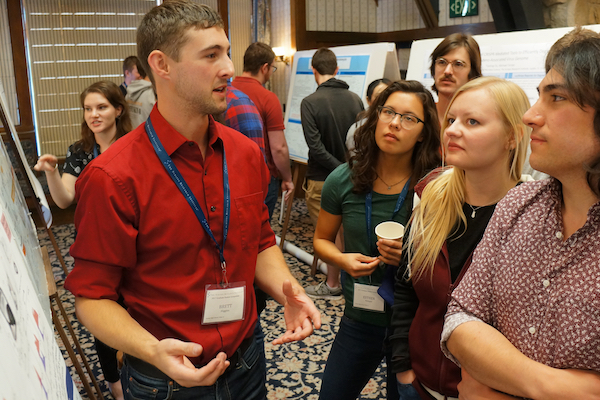 Throughout Scripps Research's graduate program, there are several program activities in which students are required to participate, including seminar series, journal clubs and the annual Graduate Student Symposium. These activities provide forums complementary to course and lab work for exchanging ideas; improving oral and written communications skills; and networking with fellow students, postdocs and faculty.
The objectives of the program activities are as follows:
Encourage scientific discussion among students and faculty
Expose students to a broad range of research topics
Provide students with an opportunity to present their research
GRADUATE STUDENT SYMPOSIUM
The Graduate Student Symposium provides a forum for students, faculty, and administrators to interact in an informal setting. Students representing a broad array of focus areas from both campuses present their research and receive feedback from fellow students and faculty.
DISTINGUISHED LECTURE SEMINAR SERIES
The Distinguished Lecture Seminar Series was created for students to select and host world-renowned chemists and biologists who exemplify scientific excellence. Typically, two to four speakers are invited each year. The students arrange all the logistics for the visit with assistance from the Office of Graduate Studies. Examples of upcoming student-organized seminars in this series can be viewed below.
JOURNAL CLUB
The Journal Club is a forum for critical analysis of recent publications. Meetings are generally held once a week for one hour. Students invite a faculty member with expertise in that field to facilitate the discussion. Every student is expected to present at least once per year.
NETWORKING AND SOCIAL ACTIVITIES
In addition to required program activities, students on both campuses have numerous opportunities to participate in a wide variety of networking and social activities. Explore the Student Life section of our site to learn more about campus organizations and activities in which students may become involved. Examples include the Network for Women in Science, Scripps Consulting Club, Toastmasters (public speaking skills), community outreach and mentoring opportunities, bioscience industry events and more.
Campus Organizations: California Campus | Florida Campus 
Campus Life: California Campus | Florida Campus
SCIENTIFIC MEETINGS
Support to attend national and international conferences is also provided. A partial list of the scientific meetings attended by Scripps Research's graduate students in the most recent year can be found in the Student Achievement section .