California High School Internship Program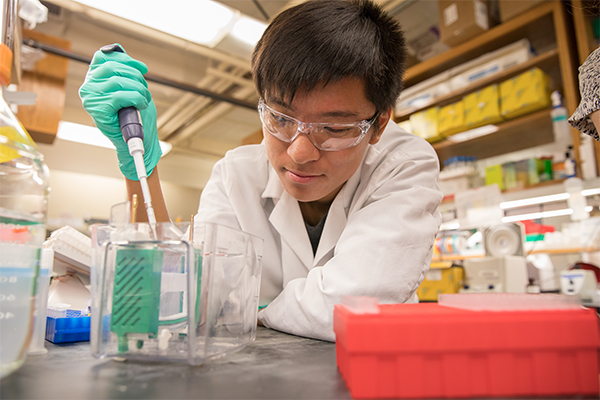 Scripps Research's High School Student Research Education Program exposes students to contemporary issues in biomedical research and provides hands-on laboratory experience and mentorship. It is committed to increasing the number of talented students who choose a career in the biological and chemical sciences, particularly first-generation college-bound students and students from groups that are underrepresented in science.
This program will begin with a three-day unpaid boot camp followed by a seven-week paid research internship.
Program Dates - UPDATED!

June 24 to August 14, 2020
(Includes June 24-26 boot camp covering biotechnology laboratory skills, safety practices and other skills.)


Application Deadline

The application period for the 2020 summer program is now closed.
Sample Host Labs

To view a list of several Scripps Research labs that will be hosting summer high school interns this summer, CLICK HERE.
Selected students will participate in all three components of the program:
Students will attend an unpaid pre-internship training course. The three-day "boot camp" will be held at the Scripps Community Teaching Lab immediately prior to the seven-week internship.
Through an interview process with principal investigators, students will be matched with a research laboratory for an internship, Monday through Friday, 8 a.m. to 5 p.m., from June 29 to August 14, 2020.
During the seven-week internship, each high school student will meet with a graduate student mentor who will help guide the student through their experience in the lab, the college application/selection process, the application essay, etc.
If you have questions regarding your application or the types of research selected summer interns experience at Scripps Research, contact our Office of Educational Outreach by email at eduprgm@scripps.edu.
Compensation
Students are awarded a gross compensation of $12.50 per hour for the summer internship program.
Applicants must:
Be a San Diego County resident and have completed their most recent semester of high school at a public or private high school within San Diego County;
Be at least 16 years of age on or before June 15, 2020;
Have successfully completed at least one year each of high school-level chemistry and biology;
Have a minimum grade point average of 3.0;
Commit to 40 hours/week for the duration of the program;
Provide their own transportation; and
Be able to obtain a work permit (if under age 18) from their school upon notification of hire. (More information on work permits can be found at your school counseling office.)
A special emphasis is placed on identifying and recruiting first-generation college-bound students as well as those from groups that are historically underrepresented in the sciences (e.g., African-American, Hispanic, Native Pacific Islander or Native American students).
If you have questions regarding your application or the types of research selected summer interns experience at Scripps Research, contact our Office of Educational Outreach by email at eduprgm@scripps.edu.
The application period for the 2020 program is now closed. Students who submitted an online application before the April 1 deadline should review the instructions below. The deadline to submit the supporting materials listed below is April 10.
An important part of the online application asks applicants to provide us with the names and email addresses for at least two teacher references who are familiar with the applicant's scientific skills, academic accomplishments and motivations to pursue this type of experience. STEM (science, technology, engineering or math) teachers are highly recommended. We strongly suggest applicants first decide which teachers will serve as their references and obtain their email addresses before beginning the online application.
In addition to completing the online application, all program applicants are required to submit the following documents (PDF files strongly preferred):
A resume or CV that describes your education, work experience, research publications, teaching experience, professional activities, volunteer activities, community engagement, honors and awards.
Unofficial academic transcripts (grade/progress reports will not be accepted in lieu of a transcript)
A short essay the addresses the following topics in 1000 words or less: What area of science research are you most interested in? Please relate this to a past personal or classroom experience. What benefits do you hope to gain from a research internship? Describe your extracurricular interests and hobbies, including any honors or awards.
 
Applicants are encouraged to submit all of the above materials by the application deadline or their application will not be considered. Once an applicant completes the online application, they will receive instructions via email (within a few days) regarding how to upload their supporting documents. Do not email these documents to Scripps Research.
IMPORTANT TIPS:
Within a few days of submitting your application, you will receive an email from Scripps with a subject line similar to "Your Scripps Research Summer Internship Application." Look for this email message, as it will contain instructions regarding how to send your supplemental materials, including a personal Dropbox folder link. We recommend checking your spam or junk mail inboxes regularly during this time, as it may find its way there.
Once applicants receive Dropbox upload instructions for supplemental materials (listed above), it is important to upload separate PDFs for each supplemental document. Applicants are asked to please not scan and upload all of their documents in a single PDF file. Sending each document as a separate PDF assists us in quickly determining when a student's application is complete, so we may begin sharing their information with our faculty review committee sooner.
If your school registrar, counselor or administrator will not provide you with your transcripts, you may also give them your Dropbox link, and they will be able to upload your transcripts directly to your application folder. Anyone with your Dropbox link will be able to upload the requested files to your application, so feel free to offer it to them, if it is helpful.
If your teachers are concerned that we have not yet contacted them for a recommendation, please inform them that we will not email teachers listed as references on your application until after March 20

at the earliest

. This is to avoid contacting teachers multiple times.
Students have complete responsibility for contacting Scripps Research with any questions and/or concerns they may have regarding the program and/or application. If you aren't sure about something, if you're wondering about a document, if you're not sure how to fill something out or whether particular information needs to be included — ask! Your teachers, counselors, parents, etc. can certainly advise you, but always be sure to double check with us about any details if necessary. Don't have your application rejected because you thought an instruction meant something different.
Be your own advocate! It is important for the students to advocate for themselves. You are applying for this position, not your parents. Any questions, etc. need to come from you.
It is important that students include their own personal email address on their application. If necessary, please create a new email address (such as gmail) that is professional and will only be used to communicate with Scripps Research and/or other employers. Do not use your parents' email address.
All requested documentation must be submitted online with your application by no later than the deadline.
 
If you have questions regarding your application or the types of research selected summer interns experience at Scripps Research, contact our Office of Educational Outreach by email at eduprgm@scripps.edu.