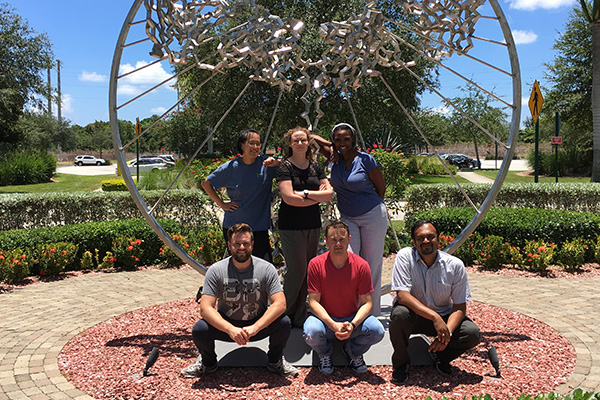 Scripps Research takes pride in the hundreds of talented postdoctoral scholars who come from all over the world to pursue their investigations here. Our goal is to provide the top-tier training and immersive experience that will launch your own scientific career.
Scripps Research supports vibrant postdoctoral communities at our La Jolla, California and Jupiter, Florida campuses, with many opportunities to connect across the country. Get involved to meet your colleagues, make new friends and establish your professional identity.

Campus Organizations
In California:
In Florida:
Campus Communications
Email: You will obtain your Scripps Research email account during the onboarding process. It can be accessed online through a web browser. In California, the address is: https://owa.scripps.edu. In Florida, the address is: https://mail.florida.scripps.edu.

You will be automatically subscribed to a list delivering regular announcements about seminars, professional development opportunities, and networking and social events specific to postdocs. You can subscribe to other lists at http://lists.scripps.edu/.

If you have any questions about your email account, contact IT Services: (858) 784-9369.

Podcasts: The PreSCRIPPSion Sound Podcast, hosted by postdoc Drew Duglan, highlights current areas of research at the institute, explores scientific career paths and discusses broader topics in science and technology. Click here to be redirected to the podcast on SoundCloud.

Social Media: You can also connect with the Scripps Research community on Facebook, LinkedIn, and Twitter .
As a postdoctoral trainee at Scripps Research, you may be eligible for deferment of your student loans, including Stafford, Perkins and similar loans. You can obtain an education-related deferment form at the website of the National Student Loan Program.
Once you complete your form, bring it to the Human Resources front desk for status verification and an institutional signature. Please note that lending agencies can differ in their deferral requirements and therefore will make the final determination of eligibility.
We hope your time at Scripps Research has been productive and enjoyable and has prepared you for the next stage in your scientific career.
Share Your Experience
Would you please share your thoughts—anonymously—about your postdoctoral experience? They will help us improve the experience for future postdocs. Here is the link to our Exit Survey.
Stay in Touch
We'd like to stay in touch with you as you advance in your career. You can share your preferred contact information in a separate form at the end of the Exit Survey.
Current and former Scripps Research postdocs, graduate students and interns can stay connected via the Scripps Research Alumni & Friends website. There, you can view and post jobs, create and join groups, discover upcoming events and reconnect with former colleagues. Once you're on the website, click on the green "Community Login" button and select "First Time Login" to access your account. Provide either your Scripps ID number or date of birth to confirm your account.
Stay connected with your Scripps Research colleagues and expand your professional contacts by joining the Scripps Research Postdoc Network group on LinkedIn. Creating a LinkedIn account is free; if you already have a LinkedIn account, click on the "groups" button to join.
Employer Verification
Should you need employer verification, contact Human Resources by email or by phone at (858) 784-8534.