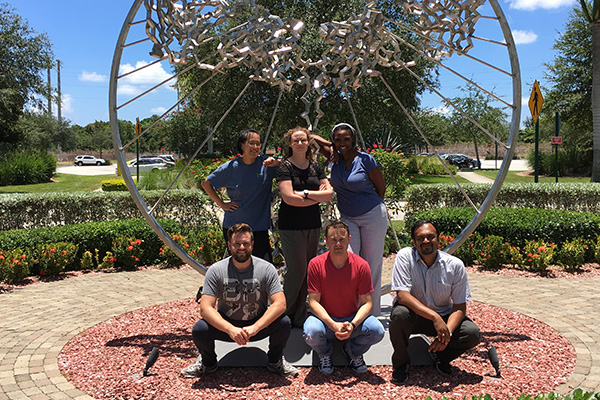 Scripps Research takes pride in the hundreds of talented postdoctoral scholars who come from all over the world to pursue their investigations here. Our goal is to provide the top-tier training and immersive experience that will launch your own scientific career.
Postdoctoral appointments at Scripps Research encompass both scholarship and training. During their time at Scripps Research, postdocs are expected to:
Gain new and expanded discipline-specific knowledge and research skills through mentored training;
Demonstrate evidence of research productivity, including publications, fellowships, and/or attendance or presentation at scholarly meetings;
Possess the experience and insight necessary to make ethical choices pertaining to the responsible conduct of research;
Develop communication, leadership, and professional skills through scientific discussions, multidisciplinary research collaborations, career-related workshops and courses, and/or professional groups;
Cultivate mentoring relationships with faculty and professionals that are tailored to their own career interests;
Treat colleagues and peers with respect and professionalism, disagree respectfully to promote consideration of diverse ideas, viewpoints and suggestions, and work collaboratively and inclusively with others; and
Articulate a plan for pursuing a career path of their choosing.
Scripps Research supports vibrant postdoctoral communities at our La Jolla, California and Jupiter, Florida campuses, with many opportunities to connect across the country. Get involved to meet your colleagues, make new friends and establish your professional identity.

International students and postdocs are supported by the institute's International Services Office (ISO), which provides comprehensive, professional and individualized immigration-related services for scholars and their families. 

Campus Organizations
In California:
In Florida:
Campus Communications
Email: You will obtain your Scripps Research email account during the onboarding process. It can be accessed online through a web browser. The address is: https://owa.scripps.edu.

You will be automatically subscribed to a list delivering regular announcements about seminars, professional development opportunities, and networking and social events specific to postdocs.

If you have any questions about your email account, contact IT Services: (858) 784-9369.

Podcasts: The PreSCRIPPSion Sound Podcast, hosted by postdoc Drew Duglan, highlights current areas of research at the institute, explores scientific career paths and discusses broader topics in science and technology. Click here to be redirected to the podcast on SoundCloud.

Social Media: You can also connect with the Scripps Research community on Facebook, LinkedIn, and Twitter.
The well-being of Scripps Research community members is a top priority of the institute.  To this end, Scripps provides postdocs with resources to promote a safe, productive, and supportive work environment during their training.  Incoming postdocs attend orientation programs that showcase the various support services available, enabling trainees to make the most of their time at Scripps.  
Well-Being Information
We ask all postdocs to be on the lookout for colleagues who are displaying atypical behavior. Talk to them and encourage them to seek assistance if they are having problems, be it personal or professional. If you are concerned about a community member who may be in crisis, please contact one of the resources listed below. To download a PDF form with crisis contacts and helpful tips on how best to support a community member in crisis, click here: CA CAMPUS or FL CAMPUS.
EMERGENCY NUMBERS
On-Campus Emergency - CA: dial 77 | FL: dial 2757
Local Police/Fire/Rescue: 9, 911 or non-emergency line: CA: 858-552-1700 | FL: 561-799-4445
CA: San Diego County Crisis Hotline: 888-724-7240
FL: Palm Beach County Crisis Intervention Helpline: dial 211 https://www.211palmbeach.org/  
Nearest Hospital
CA: Scripps Memorial Hospital, 9888 Genesee Avenue, La Jolla, 92037 | MAP
(Please note that Scripps Green Hospital does not provide emergency mental health care.)
FL: Jupiter Medical Center, 1210 S Old Dixie Hwy, Jupiter, FL 33458 | MAP
Employee Assistance Program
24-hour mental health support is available to benefits-eligible members of the Scripps community. Covered participants can call the Aetna Helpline: 1-800-342-8111, or you can visit the website (username: ScrippsResearch | password: eap).
Counseling & Psychological Services Department
The Counseling & Psychological Services Department (CAPS) at Scripps has been established with the express purpose of providing no-cost, on-site, confidential, professional counseling services to community members and their family members who are experiencing problems which may affect their personal lives or their work/academic performance. Such problems include, but are not limited to, feelings of anxiety, depression, relationship concerns, work-related stress and anger management. Counseling can help to reduce stress, improve mood, strengthen relationships and enhance work quality.
The institute's counselors are licensed, experienced professionals who are available for consultation or therapy during regular business hours. These services are confidential and are available on both the California and Florida campuses. 
The Counseling & Psychological Services Department also provides information on community resources and can help you with referrals, as needed. Examples of referrals to community-based providers include referrals for legal issues, financial concerns, drug and alcohol abuse or health problems. When outside services are warranted, they are confidential and are provided at minimal cost to postdocs and their families who are Scripps benefits-eligible. Please refer to the Counseling & Psychological Services website for more information.
To make an appointment with a counselor, or to receive additional information, contact the Counseling & Psychological Services Department.
 
Other Resources
Ombuds Office
The Scripps Research Ombuds Office exists to help people deal with situations or conflicts in the workplace by providing a place to go where they can have an informal, confidential conversation with a person who is independent and neutral. Please do not hesitate to contact the Ombuds Office for assistance: Ombuds@scripps.edu or (858)784-9911.

Grievance Procedures
Scripps has developed procedures for resolving the academic, scientific and employment-related grievances of postdocs, except those related to allegations of sex discrimination or misconduct, which are covered under the institute's Policy to Prevent and Address Gender-Based Discrimination and Sexual Misconduct in Education ("Title IX Policy"). Click here for an outline of grievance procedures (intranet only).

Policy to Prevent and Address Gender-Based Discrimination and Sexual Miscouduct in Education ("Title IX Policy")
To ensure a safe, welcoming and non-discriminatory educational and work environment for every member of the Scripps Research community, and to meet statutory requirements, including Title IX of the Education Amendments of 1972, the institute has established a Gender-Based and Sexual Misconduct Policy. The policy prohibits all forms of gender-based or sexual misconduct.

An overview of Scripps Research's Title IX policy, including links to community support resources and how to report incidents such as sexual harassment, sexual assault, unwanted sexual contact, domestic violence, and intimate partner violence and stalking, can be found here.

Campus Safety
Campus security is of utmost importance to Scripps Research. We believe all our community members—whether students, employees or visitors to campus—deserve a safe environment in which to conduct their business. For information on the many services to help keep you safe during your time on campus, visit the Campus Safety page.

International Services Office
International students and postdocs are supported by the institute's International Services Office (ISO), which provides comprehensive, professional and individualized immigration-related services for scholars and their families. 

National Postdoctoral Association
Postdocs at Scripps are eligible for free affiliate membership to the National Postdoctoral Association (NPA). The NPA has developed and collected such resources as:
We hope your time at Scripps Research has been productive and enjoyable and has prepared you for the next stage in your scientific career.
Share Your Experience
Would you please share your thoughts—anonymously—about your postdoctoral experience? They will help us improve the experience for future postdocs. Here is the link to our Exit Survey.
Stay in Touch
We'd like to stay in touch with you as you advance in your career. You can share your preferred contact information in a separate form at the end of the Exit Survey.
Current and former Scripps Research postdocs, graduate students and interns can stay connected via the Scripps Research Alumni & Friends website. There, you can view and post jobs, create and join groups, discover upcoming events and reconnect with former colleagues. Once you're on the website, click on the green "Community Login" button and select "First Time Login" to access your account. Provide either your Scripps ID number or date of birth to confirm your account.
Stay connected with your Scripps Research colleagues and expand your professional contacts by joining the Scripps Research Postdoc Network group on LinkedIn.  Creating a LinkedIn account is free; if you already have a LinkedIn account, click on the "groups" button to join.
Employer Verification
Should you need employer verification, contact Human Resources by email or by phone at (858) 784-8534.