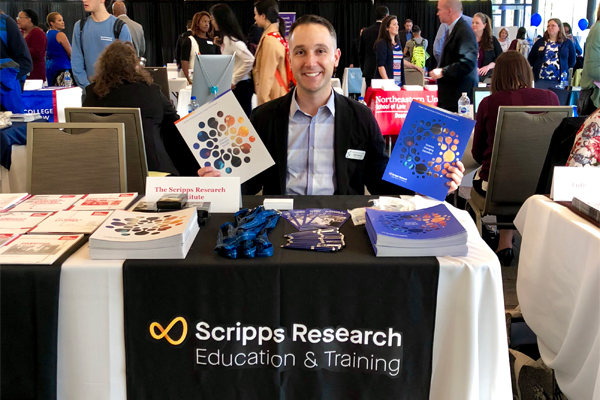 Diversity Visitation Event for Research & Graduate Education (DiVERGE)

Online Application
(not currently active)
Scripps Research's doctoral program is committed to attracting a diverse array of students who share a passion for scientific discovery. To that end, Scripps Research faculty members, graduate students and graduate program administrators frequently attend career fairs, scientific conferences and other recruitment events to meet students who have the desire, drive and discipline to pursue a doctoral degree at Scripps Research's top-ranked program.
Students who are from minority groups traditionally underrepresented in the sciences, or from disadvantaged backgrounds, are invited to apply to our Diversity Visitation Event for Research and Graduate Education program (DiVERGE), a visitation program held on Scripps Research's Florida campus. More information can be found using the DiVERGE link in the blue box below.
UPCOMING EVENTS
Scripps Research representatives will be recruiting at the events listed below. If you are in attendance, we hope you will take advantage of the opportunity to speak to students, faculty, and/or administrators about Scripps, the graduate program, summer research programs and postdoctoral opportunities.
If you plan on attending one of the events below and would like to meet us at the event, please click the "Sign Up" button next to the event and complete the short form. This will help us connect with you at the event. For general inquiries, feel free to contact the Office of Graduate Studies for more information.