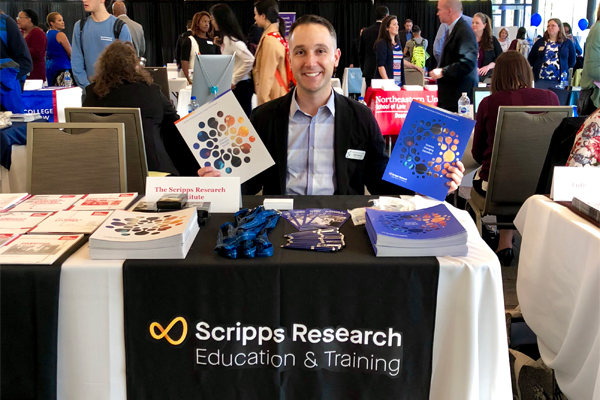 Scripps Research's doctoral program is committed to attracting a diverse array of students who share a passion for scientific discovery. To that end, Scripps Research faculty members, graduate students and graduate program administrators frequently attend career fairs, scientific conferences and other recruitment events to meet students who have the desire, drive and discipline to pursue a doctoral degree at Scripps Research's top-ranked Skaggs Graduate School of Chemical and Biological Sciences.
On Friday, October 13 we hosted a live chat with our faculty, admissions committee staff, and current graduate students, during our annual Graduate Program Virtual Open House! Watch the videos from this event with the link in the blue box below the photo.
UPCOMING EVENTS
Scripps Research representatives will be recruiting at the events listed below. Note that some events may take place virtually. Many of these events are organized by the hosting college or university, often using their Handshake account. For these events, direct links to each school's event page are included in the list below.
If you plan to attend, we hope you will take advantage of the opportunity to speak to grad students, faculty, and/or program administrators about Scripps Research, the doctoral program, summer research programs and postdoctoral opportunities.
SCHEDULE OF EVENTS
Click on any event below to view details including registration information. Please note that times default to Pacific (PDT/PST), so please adjust accordingly.