Doctoral Program in Chemical and Biological Sciences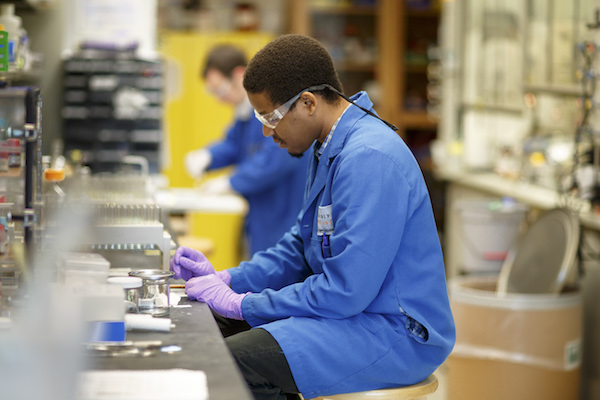 Scripps Research's doctoral program is an interdisciplinary graduate program that provides rigorous training in chemistry, chemical biology, biology, neurosciences, immunology, cell biology, chemical physiology, and biophysics. When students enroll in the program, they do not join a department, but rather pursue their graduate studies with access to the entire curriculum and faculty affiliated with the school regardless of the faculty member's department. This approach allows students to be broadly trained and emphasizes the creation of basic knowledge in the biosciences.
MISSION
The central mission of Scripps Research's graduate program is to train the next generation of scientists at the interface of biological and chemical sciences for productive careers in the global economy.
PROGRAM LEARNING OUTCOMES
Scripps Research's doctoral program achieves its mission through the following program learning outcomes (PLOs):
Research Skills: equip graduate students with new and expanded scientific knowledge and laboratory techniques;

Critical Thinking Skills: strengthen students' critical thinking through innovative curricula, cutting-edge research, program activities, and campus workshops and seminars;

Scientific Communication Skills: develop students' abilities to generate and communicate ideas and methodologies to answer some of the world's most challenging and cutting-edge scientific questions through multidisciplinary scientific collaborations; and

Professional Development Skills: support and develop students' personal and professional skills.

TWO CAMPUSES, ONE PROGRAM
Students may study, conduct research, and attend research seminars and professional development workshops on either of Scripps Research's campuses: La Jolla, California and Jupiter, Florida. The latest broadcasting technologies and pedagogical tools are employed to ensure connectivity, communication, and interaction between students and faculty on the two campuses.
INTERDISCIPLINARY APPROACH
A key feature of Scripps Research's graduate program is the ability for students to completely customize their experience across conventional boundaries. New students can customize their curriculum to consist of diverse courses aligned with their research interests, while also selecting lab rotations that impart laboratory experience in more than one research area. Students can also customize the focus of their thesis research to gain exposure to any discipline of their choosing.
Explore these program components in greater detail by clicking on the links in the menu above.