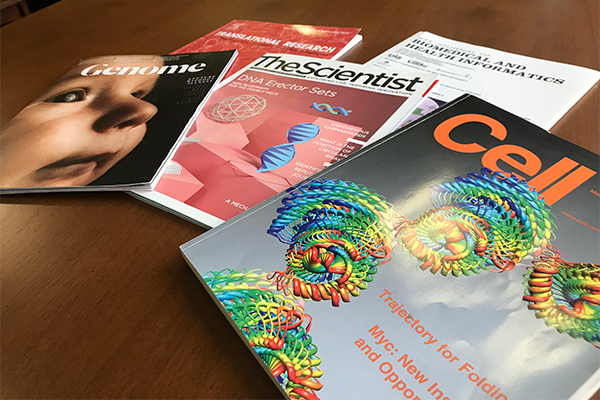 In order to make a substantive contribution to the body of scientific knowledge, conducting laboratory research is only part of the picture. Once the work is complete, it must be shared with the broader scientific community.
Scientists at Scripps Research publish their results in a wide variety of academic journals, from the prestigious multidisciplinary publications Science and Nature to more specialized periodicals focused on specific topics in chemistry and biology.
For doctoral students, publishing that first paper in a scientific journal is a triumphant moment and something of a rite of passage.
As straightforward as it may sound, publishing your research requires a tremendous amount of time, effort and skill. The rate at which Scripps Research graduate students publish the results of their research in academic journals is another testament to the quality of the Scripps Research graduate experience. According to the most recent data on currently enrolled students, after completing five years in the program, Scripps Research graduate students achieved an average of 4.14 publications. Moreover, 97 percent of current students achieved at least one publication by this milestone.
Scripps Research's graduate program sets publication goals at three yearly milestones. Students are encouraged to achieve at least one publication by the end of their third year, two by the end of their fourth year, and three by the end of their fifth year. In response to these targets, 59 percent of currently enrolled students have achieved the Year 3 goal, 55 percent have met the Year 4 goal and 62 percent have achieved three or more publications by the end of their fifth year. To view more detailed information, including charts illustrating publication rate data for currently enrolled Scripps Research graduate students and alumni, click here.