Summer Undergraduate Research Fellows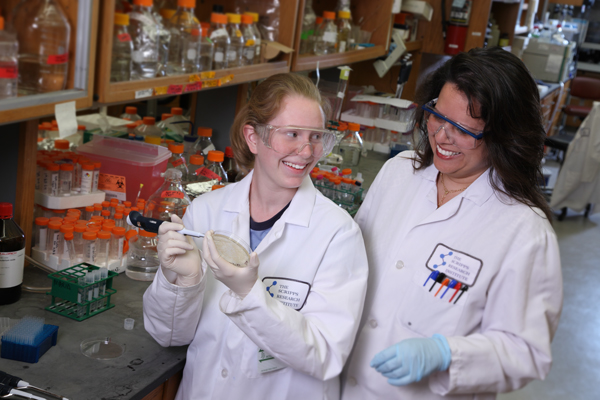 Scripps Research's ten-week Summer Undergraduate Research Fellows (SURF) internship program offers students the opportunity to experience cutting-edge research in one of our 150+ laboratories while being mentored by our world-renowned faculty. The program is held on our La Jolla, California campus.
Unlike in traditional college classes where the course of study is entirely determined by the instructor, participants in Scripps Research's SURF Program identify their area of interest and are matched with a faculty mentor. Together the student and mentor craft a research project. The student will work on that project under the supervision of a graduate student, postdoc or another member of the lab for a few weeks, until the student is comfortable with the project. Then the student will be expected to work independently.
PROGRAM OVERVIEW
Students are expected to work full-time in the laboratory and participate in weekly academic and research seminars.
Weekly seminars include:
"Career Options for PhDs" seminar;
"Life as a Graduate Student" seminar given by Scripps Research graduate students;
"Lab Techniques" presentation, where students explain why the technique was chosen, the reagents, the methods, the expected results, and often the pitfalls and/or troubleshooting they encountered in learning and mastering the technique;
GRE preparation classes; and
"Hot Topics in Science" presentation, where students present the background, the methods, figures/graphs, conclusions and most importantly, their interpretation of the research presented in the paper.


At the end of the summer, students will give an oral presentation of their research at the Summer Student Symposium. The entire Scripps Research campus is invited to view the research accomplishments of the SURF students. This provides another excellent opportunity for SURF program participants to hone their public speaking and networking skills.
COMPENSATION
Students receive a stipend of $6,250 and on-campus housing at a nearby university or college.
PROGRAM DATES
June 5 to August 11, 2023 (10 weeks)
APPLICATION DEADLINE
February 15 (annually)
Start and end dates are flexible and can be adjusted based on a participant's schedule. All participants must complete 10 weeks.