Get Involved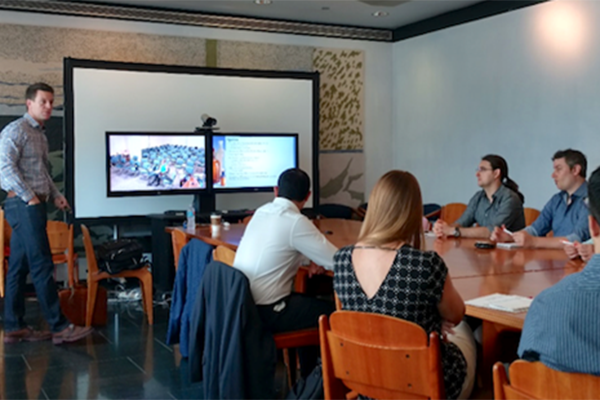 Exploring Careers with Experiential Learning (ExCEL)
Interested in hosting Scripps Research graduate students and postdoctoral scholars at your organization or meeting with early career scientists virtually? The Exploring Careers with Experiential Learning (ExCEL) program is a half-day to one-day experience to interact with top junior scientific talent while exposing trainees to viable career paths. On the day of the event, a small group of trainee participants are offered a unique glimpse into the role's day-to-day duties and responsibilities by hearing real-world insight from professionals and by performing actual job tasks curated and facilitated by the host organization.
Past ExCEL experiences have included medical science liaison (Teva Pharmaceuticals), patent agent (Ionis Pharmaceuticals), business development (MEI Pharma), technology development (Scripps Research), management consultant (1798 Consultants), and product marketing/market research (Sciencia Consulting).
Through ExCEL, participants explore a variety of careers in both industry and academia and organization hosts meet top scientific talent. Interested in hosting Scripps Research trainees? Email the Career and Professional Development Office at CPDO@scripps.edu
Are you a current graduate student or postdoctoral scholar looking for information about ExCEL? See Prepare for a Non-Academic Career.  
---
Industry Bridge Program
The Society of Fellows Industry Bridge Program is designed to provide opportunities for Scripps Research postdoctoral associates and graduate students to learn about industry careers by visiting area biotech, pharmaceutical and medical device companies. Individuals will have the opportunity to obtain industry exposure, interact with industry scientists and learn how to prepare for the transition from academia to industry. Contact Society of Fellows at fellows@scripps.edu.
Employer information sessions
The Career and Professional Development Office and the Department of Chemistry hosts complimentary virtual and in-person employer information sessions to expose our biology and chemistry graduate students and postdoctoral scholars to a range of employment opportunities in the biomedical sciences. Are you seeking talent and interested in visiting campus or presenting via Zoom? Get in touch with us at CPDO@scripps.edu.
Post a job
Interested in recruiting top Scripps Research scientific talent? Send your posting to CPDO@scripps.edu for inclusion on our jobs site and weekly newsletter.
Are you a Scripps Research alumnus seeking new opportunities? Check out our job board on our Scripps Research Alumni & Friends site. Once logged in click on "Learn" and then "Career Center" to view openings.
Conduct on-campus interviewing
Would you like to interview multiple Scripps Research trainees on-campus? Contact CPDO@scripps.edu for complimentary room reservations and to discuss a plan to maximize your recruitment efforts.
Join networking opportunities
Employers – There are ample opportunities for networking available through the Career and Professional Development Office or with campus clubs and organizations such as the Network with Women in Science or the Society of Fellows. Contact CPDO@scripps.edu and share your needs and learn more.
Alumni - Scripps Research hosts networking events for alumni surrounding major scientific conferences every year. Please see upcoming events on the Alumni & Friends website.